After completing my first 2 years at university, I jumped at the opportunity to work at one of Strand's headquarters in Barcelona as part of their marketing team.
Since arriving, I have been made to feel extremely welcome by my colleagues, and in my first week alone, I felt like I had already learnt more than in 6 months of studying at university - and in particular about FinTech.
So after doing some research, I came to learn that where I had come from, London, was the Fintech capital of the world, and it prompted me to find out what exactly made it such a prime location for Fintech startups. Although it is a mix of complexities, I tried to cut it down to 5 advantageous factors:
1. Government backing. In 2016, the UK government confirmed funding for 6 new multidisciplinary research centres to help aid the Digital Economy. This kind of funding is backing statements made by previous Prime Minister David Cameron, who stated that he wanted to ensure the UK remained a Fintech leader till 2020. Furthermore, the Conservative party announced that tax paid by UK business would drop by 2% to 18% by 2020, allowing companies to instead invest in innovation and research
2. Fintech is the future, and according to London and Partners, 2016 saw over $400 million being poured into London FinTech companies by investors, meaning the city has many FinTech startups which are currently in development. This level of investment is unparalleled, and is evident by looking at the FinTech50 list, in which a huge 31 of the companies call London home....
3. London is full of talented entrepreneurs, many of which were highly qualified professionals who lost their jobs during the economic recession in 2008, and went on to create their own companies with a customer focus in mind. Furthermore, the UK government appointed a FinTech envoy, Eilieen Burbudge who specialises in investing in early stage startup Fintech companies.
4. After the World Wide Web was invented in the UK in 1990, it comes as no surprise that the Internet is the 2nd biggest economic contributor and represents 12% of the UK GDP. With such use, it has led to many companies being founded and has allowed for exponential growth, due to the expertise and experience the UK uses to their competitive advantage.
5. Unlike the US, where different cities specialize in different areas, such as New York's Wall Street, Silicon Valley's innovation or Washington´s legislation centre, London boasts all of these specialities in a much more concentrated space. Therefore the flow of information is easier and smoother, allowing for an efficient continuous development.
These are just some of the reasons why the British capital has the resources to lead the way for FinTech innovation. Whether London remains the FinTech capital, or other major innovative cities such as Singapore or Los Angeles will take the take the number one spot, only time will tell.
Strands is proud to be working with some of Britain's largest financial corporations such as Barclays Bank for a digitalised future. To stay up to date with the latest information in the FinTech world, check out our partner Fintech Insider: the No.1 Podcast on FinTech and financial services on Itunes in more than 150 countries, who are also based in London.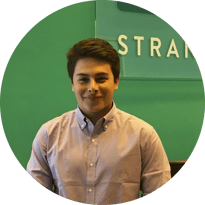 ABOUT THE AUTHOR
GABRIEL MORENO
Gabriel Moreno has recently joined Strands team as marketing intern. Having studied marketing in Newcastle, Gabriel is interested in the world of business, fintech & innovation.