Many of us are coming to realize the importance of data that is being generated and harvested by technology companies. We are at a very crucial moment now as big technology companies that have created business models around monetizing data and figured out ways of building customized experiences, start to move into the banking industry.

Historically, banks and financial institutions have generated the majority of their revenue from interest and fees but haven't really ever dived into monetizing the data they hold.

Yet, banks have what could be the largest source of untapped data: behavioral analytics generated from transactional data.
This is where Strands comes in to provide solutions that allow banks to extract value from this incredible resource and be ready to compete in a new banking environment.

So what are some of the problems that we see banks and financial institutions facing today?

Digital Experience

Banks need to be able to generate or create modern engaging digital experiences. To do so requires them to start thinking from the customer perspective and work backward.

In many cases, the culture and agility to design those experiences aren't really native in the banking industry.

However, banks are feeling pressure especially from the younger generations who are looking for convenience and great onboarding experiences. And, these are precisely the types of experiences and processes Strands helps banks and financial institutions build.

Legacy Technology
Traditional banks run their platforms on legacy technology which is distributed across a complex patchwork of data silos that are not designed to share data or process insights in real-time. As you can imagine, this makes it very hard to really understand the full picture of the customer when you aren't able to analyze all that data in one central repository.

Raw Data
Banks are unable to enrich the significant volume of raw transactional data they generate today — this untapped behavioral data is a key asset to create personalized insights-driven experiences.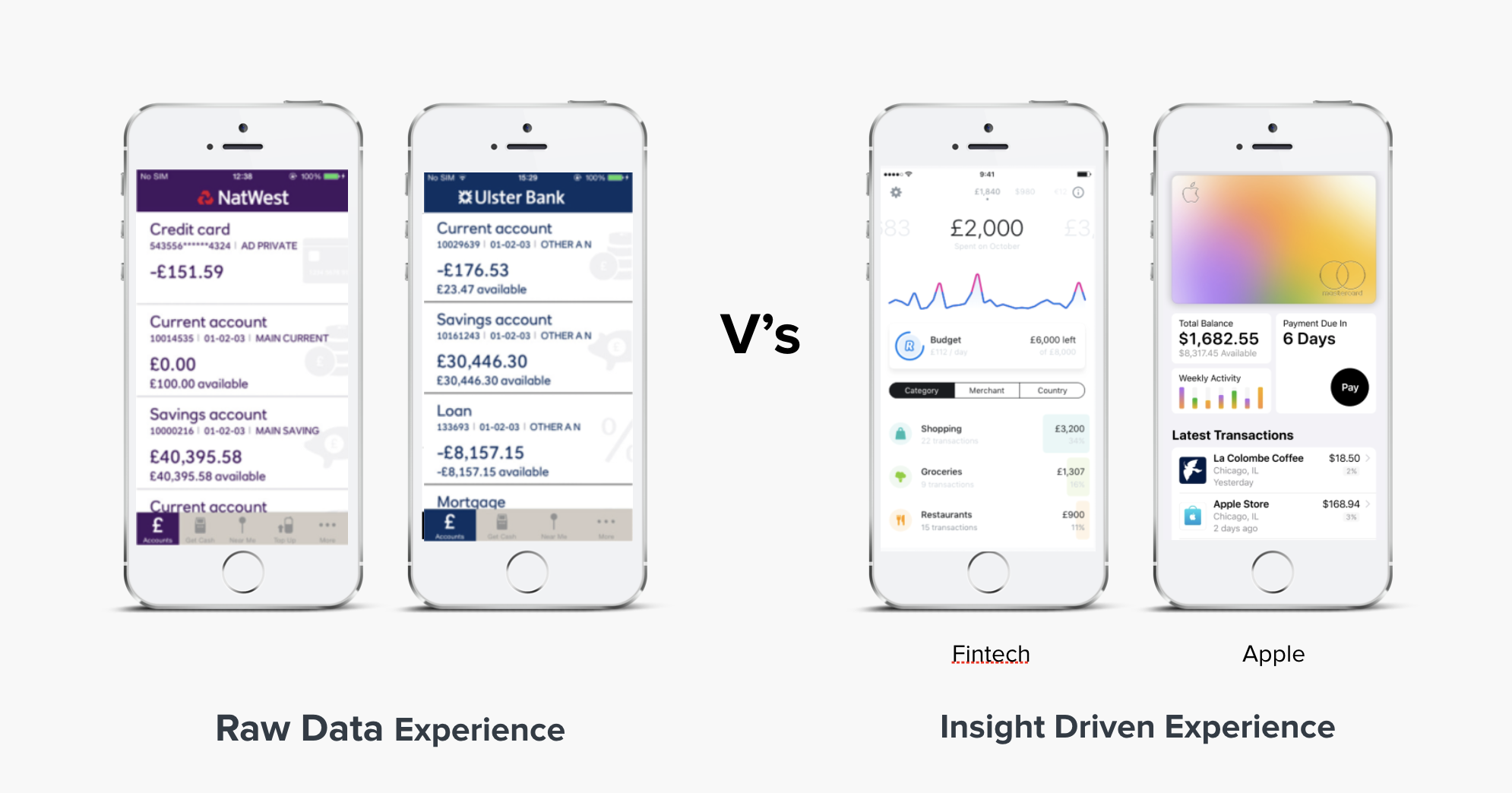 Disintermeditation of Banking

There are various combined forces that are taking place but the access to cloud computing by technology companies over much smaller companies allows them to scale and compete with larger platforms.

Some of the things we are seeing are:

- Affordable Cloud Computing
- Rapid development of Mobile Applications
- Secure API access to banks transactional data (Open Banking/PSD2)

All of these changes allow new players, of any size, to deliver engaging data-driven digital banking experiences that threaten to erode incumbent banks' customer base and their existing business model.

From the retail banking side, Strands is delivering some of these experiences as well.

Strands has built a platform over the last three years that has been rolled out to top banks around the world.

The idea here is of helping small business owners understand their projected cash flow over the next 60 days so as to be able to help them avoid pitfalls that may cause them to fall into negative cash flow. Many companies currently don't actually survive these issues because they don't have the necessary tools to help them fully understand their financial situation.
Strands and Oracle Infrastructure
Strands and the Oracle Generation 2 Cloud solution power and deliver Strands' enterprise-grade Finance Suite as-a-Service by integrating that technology into the bank. In addition, there are many ways that the bank can monetize the data provided.

When it comes to the Strands and Oracle infrastructure, the combination of financial data and non-financial data is very relevant and utilized for generating the insights. It basically comes down to making sense of the data to have a better overall picture of the customer's financial state.
Once insights are generated, those are contextualized and presented in bite-sized statements that are delivered through push notifications and other channels that then link back straight to that element within the bank.

Strands has been working very closely with Oracle over the last year in order to move the Strands technology stack over to the cloud and in the process leverage different components that the Oracle Cloud Infrastructure offers.

These characteristics include:

Exceptional Performance

Processing over 150K real-time transactions per minute and instances with over 10 Million users requires a cloud that is optimally tuned to run large and complex production systems.

Smooth Transition

Migration of our Enterprise-grade solution to the Oracle Cloud was seamless thanks to the flexibility in supporting all applications - old and new alike.

Cost and Value

Price relative to performance is unrivaled with Oracle Cloud when running data-intensive applications including raw transactional data enrichment coupled with real-time insights generation.

As for the Autonomous Database, the benefits include:

Security

Access is monitored and controlled, protecting from cyber-attacks and unauthorized internal control. Add to this Oracle's strong data encryption.

Trust

As Strands takes ownership of the instances, they want to partner with the leading mission-critical database partner to deliver the trust their partner banks CIO's have relied on for decades.

Efficiency

Manage the productivity of DBA resources leveraging Autonomous Database tools to automate administrative tasks, reduce human error, and scale the SaaS solution over time resulting in valuable savings through effectiveness.

Understanding the current needs of banks and financial institutions when it comes to their digital transformation, the Strands and Oracle infrastructure solution will continue to power and deliver Strands' personalized AI banking services running on the powerful Oracle Autonomous Cloud.

If you are interested in finding out how Strands can help your bank, or if you would like to get a Free Demo of our AI-powered Financial Management solutions, please fill out this form and one of our Sales Reps will get back to you as soon as possible.